8Kate Leyshon runs London Marathon for Children Looked After
Joining more than 30,000 runners in this year's London Marathon, is Cognus' Head of Virtual School, Kate Leyshon.
The event on 26 April will see Kate at the starting line of the 26.2 miles course to promote healthy active lifestyle education for Sutton Children Looked After and Previously Looked After.
She is also excited to be joining one of Sutton's Children Looked After who will officially start the London Marathon.
Kate says that she was lucky to gain one of the 40 London teacher spaces allocated for the 40th year of the London Marathon, an opportunity to raise the profile of the work of Virtual Schools across London who do everything to ensure the best education for children in car118e.
Sutton has parental responsibility for many Children Looked After and Kate believes that we can influence our young people by demonstrating positive approaches towards exercise and health.
Kate is visiting Manor Park Primary School, Cheam Fields Primary School and Cheam Common Junior School in the next few weeks to deliver an assembly on different types of families and the importance of exercise, as well as taking part in the Daily Mile with the children.
Kate is also working with other Virtual School Headteachers across London to hopefully bring together a large group of Children Looked After, foster carers, teachers, social workers and Councillors to run the Westminster Mile in May as a way of role modelling positive approaches to exercise.
For now, Kate's training regime for the marathon includes three short runs a week (3-7 miles) and one longer run (8-20 miles).
"The hardest part is getting in from work, sorting family things such as dinner and then going out into the dark and wet evenings for a two- hour run. I have kept myself going by reminding myself of the children that I am doing this for, and that helps a lot.", says Kate.
Kate is aiming to raise £1,000 to fund a sports enrichment project for Children Looked After.
To show your support, please visit Kate's Just Giving page .
Follow Twitter @suttonVS_CLA for further information on Kate's preparations and progress.
For more information on the work of Sutton Virtual School, visit https://cognus.org.uk/our-services/suttonvirtualschool/
Malorie Blackman writing scholarship opportunity for CLA and Care Leavers
Ever wanted to study creative writing?  If you put in your application by 31st January, you could be studying for FREE.  Click the link here for more information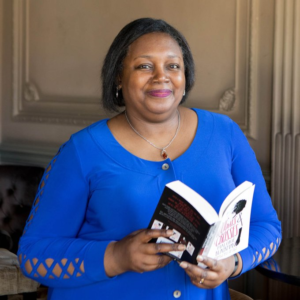 Malorie Blackman OBE
New Twitter page launched (December 2019)
Follow us on Twitter @SuttonVS_CLA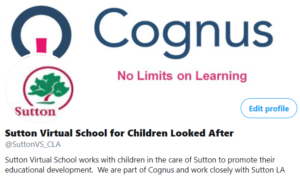 New You Tube channel launched (December 2019)
Subscribe to us on You Tube – Sutton Virtual School
Kate Leyshon, Sutton Virtual School Headteacher is running the London Marathon 
Kate has gained a place in the London Marathon and will use this as an opportunity to promote healthy, active lifestyle education for Children Looked After and Previously Looked After.